Both available for commercial and personal photoshoots I'd love to help you capture your story thru my images. 
Before we meet for the actual photoshoot we always make sure to have your wishes and requirements clear. We create a mood-board and will fully manage expectations so both parties know what to expect, what to prepare for and eventually get to the desired result. 
Any photoshoot will be done in a very laid back way, as I totally understand not everyone is a photogenic talent who looks like super model on every photo. My mission therefor always is to capture you, as you are, but in the best way. I'll do all I can to make you feel comfortable and aim for the shoot to be a fun experience. Any city photoshoot is done by walking, talking, laughing and snapping the photos we want at the locations we want. 
Head over to "book a photoshoot" to see all options and send me an e-mail to align and book that photoshoot.
For any commercial photography please also reach out via e-mail to discuss options. I'm always open to meet up in Amsterdam for coffee to discuss anything beforehand. 
Visibility is key, especially online. Capturing attention when potential customers reach your brand is even more important. Therefor quality photography and a professional online presence is no longer optional but a must have. 
Let us help you with our social media and photography experience to tell your story.
Content creation and branding are fully custom made and always catered to your brand. Therefor let's discuss what it is you struggle with content wise, and we'll show you how we can help. 
Price: upon request and requirements.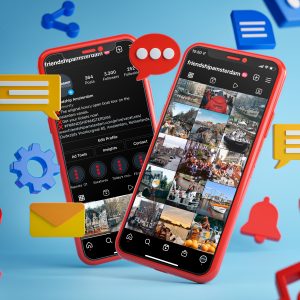 Managing your social media account(s) can be rather time consuming. Creating new social content, uploading and sharing new posts at the right time, engaging with the community, potential and existing customers customers, comments, direct messages, questions, potential influencer collaborations can really take up a lot of time. Time you might not have. Or maybe Instagram and social media is still a bit of an unknown for you.  
We have been using Instagram from the beginning, gathering a lot of knowledge on the platform and building quite the network. We'd love to share this knowledge with you and help you make the most of your social presence. 
If curious about options, let's have a coffee and discus how we can help each other while getting a clear image on which problems we can solve for you in regards to social media.

Price: upon request and requirements. (Of course the coffee talks are for us to introduce ourselves to each other and are not charged.)